Kashk, kishk, jameed, tarhana… whatever you call it, it's a great way to thicken soups, add flavour to stews and undercut too-rich roast vegetables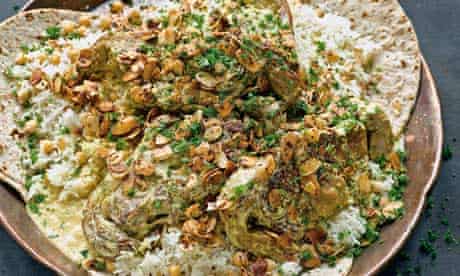 One of my current favourite ingredients is really more a group of products that goes under all manner of names. Kashk, kishk, jameed or tarhana (to list just a few of the options) is, essentially, made from fermented yoghurt, milk or whey, and is common in Iranian, Turkish, Balkan and Arab cuisines. Its popularity derives from a depth of umami flavour similar to that you might find in a mature cheese such as parmesan.
The Persian "kashk" is a preserved food made from wheat or barley mixed with sour milk or yoghurt; in Iran, however, the same word also means dried buttermilk. Kashk comes in liquid or dried form (you reconstitute it with water), and is traditionally made with the milk left over from cheese-making.
In Lebanon, Syria, Palestine, Jordan, Turkey and Armenia, "kishk" is the name given to preserved discs of fermented yogurt and wheat. At the end of summer, just after the wheat harvest, bulgur is made by boiling, drying and crushing the grain. This is then mixed with the yoghurt, spread on a tray and left until the grain has absorbed all the liquid. The kishk grains are then spread on cloths and left to dry in the sun; a final rubbing reduces them to a powder. Other takes on the theme don't involve grain at all, just blocks of dried, fermented yoghurt, which are crushed and then reconstituted.
Kashk or kishk is added to soups and stews, both to thicken them and for its deep flavour. When asked what she stocked up with when she had to flee Beirut in the civil war, Bethany Kehdy, author of the wonderful The Jewelled Kitchen, picked awarma (preserved meat) and kishk. "The two can be paired to create a very soul-soothing soup," she says.
Rather like a runny feta, tart kishk also provides a welcome contrast in dishes of rich, roast vegetables. In Iran, a popular spread, kashk-e bademjan, is made by mixing cooked aubergine with caramelised onion, mint, kashk and then maybe garlic, tomato paste and walnuts.
The taste of kashk is totally distinctive, so it's well worth hunting down in Middle Eastern grocers, specialist stores and online. If you can't get it, you can make a vague approximation by mixing sour cream or crème fraîche with grated parmesan, and possibly adding a few pulverised tinned anchovies.
Mansaf
For this traditional Palestinian/Jordanian feast of a meal, you can use 500g of goat's yoghurt instead of the kashk and Greek yoghurt. The platter is traditionally lined with a few flatbreads – not hollow pitta, as you might expect, but the large, thin kind, like Arab flatbreads or Indian chapatis – that enhance the presentation and are also used to scoop up a perfect portion of rice, sauce and meat. The bread also tastes great once it's soaked up the yoghurt. Serves four.
2 tbsp olive oil
4 Barnsley lamb chops (940g) 
3 bay leaves
1 tsp whole allspice berries
¼ tsp black peppercorns
1 onion, peeled and quartered
250g Iranian liquid kashk
250g Greek yoghurt
1 egg, lightly beaten
½ tsp saffron
250g basmati rice
45g unsalted butter
240g cooked chickpeas (120g uncooked)
60g flaked almonds
1 tsp dried Allepo chilli flakes, or another mild type
1 tsp sumac
3 large flatbreads (see introduction), slightly warmed
1 tbsp lemon juice
5g chopped parsley
Salt
Heat a tablespoon of the oil in a large saucepan over a medium-high heat. Add the chops and sear them for four minutes, turning once, to get some colour on both sides. Carefully pour in 600ml of water, and add the bay leaves, allspice, peppercorns, onion and half a teaspoon of salt. Bring to a very gentle simmer and cook, covered, for 70 minutes, until the meat is very tender. Once done, skim the fat off the surface.
Whisk together the kashk, yoghurt and egg, along with two tablespoons of the hot cooking broth. Slowly add this to the lamb, stirring as you pour, then add the saffron. Bring to a very low simmer – if the temperature is too high, the mixture may split – and cook for about 20 minutes, stirring gently from time to time, until the sauce thickens a bit.
Meanwhile, pour some boiling water over the rice and soak for 20 minutes. Drain, rinse and drain again. Melt 30g of the butter and all the remaining oil in a medium saucepan and add the rice and three-quarters of a teaspoon of salt. Add 300ml of water, bring to a boil, stir once, reduce the heat to a minimum, cover and cook for 20 minutes. Remove from the heat, stir in the chickpeas and pop a lid on the pan.
While the rice is cooking, put the almonds in a small frying pan with the remaining butter, chilli flakes and an eighth of a teaspoon of salt. Cook for about five minutes on a medium-low heat, stirring often, until the almonds are nicely toasted. Remove from the heat and stir in the sumac.
Arrange the flatbreads on a large round metal tray or ceramic platter, making sure they cover it completely. Spread out the rice and chickpeas on top, leaving a clear rim of bread around, and squeeze the lemon over the rice. Top the rice with the lamb and spoon over as much of the sauce as you want, leaving the aromatics behind in the pan. Sprinkle with almonds and parsley, and serve.